Bell Schedule October 7 and 8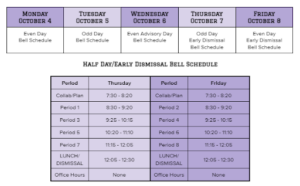 October 7th and 8th are half day schedules for students. Students will be dismissed at 12:05. Lunch will be available from 12:05-12:30 and buses will be in the bus concourse at 12:45. Virtual Parent Teacher Conferences are Thursday, October 7 from 6pm – 9pm.
Monday, October 11 is a school holiday, no classes will be in session.
The bell schedule for the entire week can be seen here.