Board Honors Students for Excellence in Fine Arts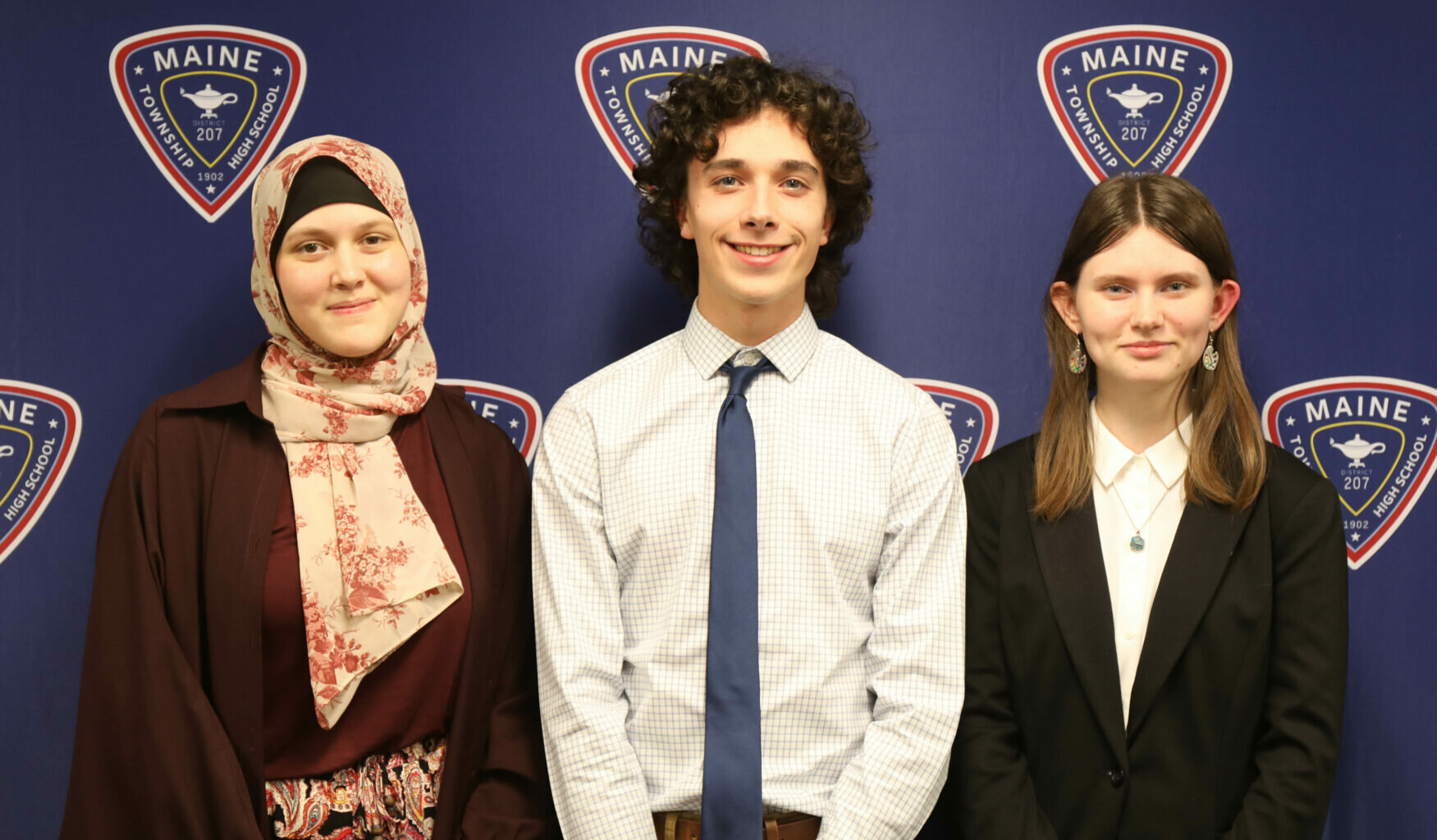 The Maine Township High School District 207 Board of Education honored three students at its recent meeting naming each student "207's Best" in the area of fine arts. The students recognized were Tyler Demott from Maine South (center), Sarah Faraj from Maine East (left) and Weronika Kmiec from Maine West (right).
The following information was written about each student as part of the nomination by the school principal – Dr. Melissa Pikul at Maine East, Dr. Eileen McMahon at Maine West and Drs. Steven Isoye and Mike Pressler at Maine South.
TYLER DEMOTT
On behalf of the staff of Maine South High School, we are pleased to recognize Tyler Demott as one of 207's Best in recognition of exemplary achievement in the Fine Arts – namely broadcasting and theatre arts. Tyler has found his passion and has acted with focus and intentionality to take advantage of opportunities and resources not only available at Maine South/D207, but also through summer immersion experiences and festivals/competitions that have affirmed his strengths and provided insight for continued growth.
Tyler has participated in multiple clubs and organizations at Maine South: WMTH TV/Film President (12), Vice President (11), Hawk PRIDE Leader (11-12), Junior/Senior PE Leader (11-12), Trunk (11-12), Radio/TV Production TA (12), V-Show Director (12), Addams Family Musical (11), Fine Arts Scholarship (11), JV Scholastic Bowl Co-Captain (10), and Volleyball Team (9). Along with his involvement in these school organizations, Tyler participated in several external programs and internships: Loyola Marymount University Summer Filmmaking Program (12), Professional Production Assistant for "Take Care Productions" (12), Assistant Videography Internship (11), DePaul University Game, Cinema, and Animation Summer Academy Internship for Screenwriting & Film Production (11-12), Volunteer filming for Local Entrepreneur Healthy Pi. Inc, First Evangelical church, and Mary Seat of Wisdom Parish (10-11), and member of the CRUX Catholic Youth Group (9-10).
Driven by his unwavering dedication and passion for Fine Arts, Tyler has acquired an abundance of meaningful accolades and awards, most prominent being: 1st Place Cinematography at MMEA (2023), National 1st Prize for Safe Driving PSA at the All American High School Film Festival (2022), "Best of Festival" and "Best Cinematography" at the Golden Lion Awards (2022), Two Crystal Pillar Awards from the National Academy of Television Arts and Sciences (Midwest Chapter), a total of 10 MMEA awards, six official All-American High School Film Fest Selections, and three additional Golden Lion Awards.
To help highlight Tyler's work in Fine Arts, Mason Strom, Broadcasting teacher and WMTH sponsor, stated:
As Tyler's teacher, I have had the privilege of witnessing his exceptional dedication, leadership, and talent in the field of filmmaking and storytelling. As a top student contributor, Tyler significantly enhances the learning environment through his thoughtful insights and creativity. His natural leadership abilities shine through in both the classroom and on set, where he takes on key roles in the production of short films. His drive for inquiry, combined with his analytical mind, fuels his continuous growth and development in his chosen field. As his instructor, I can confidently say that Tyler is the most talented student cinematographer I have had the pleasure of teaching. His unique perspective and attention to detail result in visually stunning and impactful work, making him stand out among his peers.
Dan Kolen, District 207 Videographer, offered his perspective: "Tyler interned for me in District 207 Communications in Videography, and he excelled brilliantly. Both his technical filmmaking and his professionalism were exceptional. He approached tough situations with a neutral game plan and strategy that lead to the successful completion of high quality work. Everything Tyler showed during his internship leads me to believe he has an excellent future in front of him."
Katie Schroeder, CTE teacher, added this about Tyler: "During the time I've known Tyler I've come to realize he is an absolute inspiration. His passion for cinematography is nothing like I have seen in a high school student before. He seizes every academic opportunity, challenge, and relationship. I think people naturally gravitate towards Tyler's intelligence, warm personality, strong work ethic, and calmness in conversation."
Tyler not only excels in his passions for Fine Arts but in all areas of the classroom as well. Laura Kirshner, an English teacher, offered, "It has been such a pleasure to have Tyler in AP Literature and Composition this school year. Tyler was my first pick for Student of the Month this year, and the reason for this selection is evident every day: he genuinely cares about learning and is a model of engagement & leadership in the classroom."
Natalie Hohman, his Social Science teacher, stated: "Tyler is so deserving and such a wonderful representative of Maine South and the district! I have Tyler this year in AP Psychology, and he is just a standout student all around. He participates in class, is inclusive and works well with other students, has a positive and bright disposition, and furthers our learning by asking thoughtful questions."
Erin Sanchez, his Maine South Counselor, stated: "Tyler is one of the most insightful, intellectually curious, and creatively driven students I've ever worked with. I've had many conversations with him about his film projects, and his passion for his craft is deeper, more mature, and more sophisticated than nearly any other student I've worked with in my more than 30 years at Maine South. Tyler's academic achievements are even more impressive when one considers that he has taken the most rigorous AP and Accelerated courses available while also immersing himself in film and video. Tyler Demott has made an extraordinary impact as a Maine South student, not just with his creative vision but also with his exceptional character."
Beth Ann Ball, his Mathematics teacher, offered her insight when working with Tyler: Tyler is an amazing person. I had the pleasure of working with him as a junior in AP Calculus BC, and as both a junior and senior as a Hawk PRIDE mentor. Tyler listens with his whole body: his eyes, his brain, and his heart. He is intelligent, empathetic and compassionate. When you are talking with Tyler, whether it is about how to prove an infinite series converges or how to discuss seeking help with 9th graders, Tyler is paying rapt attention while simultaneously constructing a follow-up question in his head. Tyler has built meaningful relationships with the 9th graders for the past two years and with his fellow Hawk PRIDE leaders during his lunch meetings. Tyler truly is one of Maine 207's Best!
Certainly, Tyler exemplifies the convergence of passion, purpose, knowledge and skill through his work in broadcasting, in the theatre, and in the classroom, and we have every confidence that he will continue to find success in both academics and his pursuit of filmmaking in college. He is a charismatic individual in the best sort of way who seems destined to make a positive mark in the world through his art and craft.
Congratulations Tyler!
SARAH FARAJ
Maine East's 207s Best for Fine Arts is not someone you are likely to see on stage. Instead, the many talents of Sarah Faraj can be found behind the camera and in the editing room. Sarah has a passion for film and videography and has taken advantage of many opportunities at Maine East to channel these energies into a possible future career path.
It was fun to hear Sarah reflect on how she developed a love for the arts. She shared with me that, as a child, she was not great at drawing but she imagined storylines and characters and built creative stories in her mind. Once she was introduced to videography, she realized that she can, in fact, bring her stories to life. Sarah had a unique background in that much of her elementary and middle school experience were through a hybrid homeschool program. She first tried out a broadcasting class in 8th grade at Gemini. She came to Maine East and was happy to discover that her love for film, creative writing and editing could be used in a variety of classes and activities. Sarah has been an active contributor to our weekly Blue Demon News station and an active member of Stage Crew. She also loves creating video projects for her own personal growth and has made submissions to the Midwest Multimedia Educators Association Festival. Sarah's success in fine arts through multimedia production and stage crew led her to try other areas of the fine arts as well, even taking two introductory art courses in her Senior year.
While we appreciate Sarah's contributions to the fine arts community at Maine East, she was selected for her character as much as her talent. Sarah is hard-working, extremely successful in the classroom and a dependable leader. Those who know Sarah best were eager to comment on her success.
Sarah's Broadcasting teacher, Phil Ash, shared, "During her time in fine arts, Sarah has become an extraordinary visual storyteller and does exceptional work for both my classes and for Blue Demon News. Sarah is exceptionally creative, works very hard to see her visions through. She puts in the time necessary to succeed. Moreover, she is a friendly, dependable student that I and so many of my colleagues have grown to depend on to see various fine arts projects through. Whether it's producing an important news segment for Blue Demon News, or leading various stage crews through constructing sets for fall plays and musicals, Sarah and her work is invaluable to our department. She is an exceptional video editor and cinematographer and she's exploring these talents further by enrolling in Photo this year. Sarah is the best and I couldn't be more proud of her and this achievement."
Mr. Greg Lundbery was lucky to have Sarah two years in a row for English. "She is a talented reader and writer, and she was always full of interesting, insightful, and often funny comments to add to our class discussions. I always enjoyed reading Sarah's writing, too—not only was it technically perfect, but there was plenty of personality in it. One of the things that really set Sarah apart was that she often stayed after class to continue conversations we had started in class, and just for the fun of it! She is a real thinker, a young woman genuinely interested in ideas, especially the philosophical and ethical ideas that often come up in literature."
Sarah's counselor also had incredible reviews of her success. "Sarah has been involved in Gifted Lyceum and has maintained straight A's during her time at Maine East. She has been a member of National Honors Society since her 11th grade year and also a member of National Arts Honors Society since her 9th grade year. Sarah is heavily involved with Stage Crew & Broadcasting (her greatest passions are theater and media production). She has several leadership positions in Stage Crew such as Assistant Stage Manager, Props Master, and Stage Manager and is also the Drama Club Historian this school year. Due to her experience in broadcasting, Sarah has received the Television Producer of the Year award two years in a row.
Sarah has a 4.5 weighted GPA and is a student on my caseload that stands out in academic achievement, leadership, extracurricular accomplishments, and personal qualities and character. She's incredible and well-deserving of this award!"
Stage Crew value of Sarah matches her love for it. Ms. Mitilineos shared, "Sarah has been a member of stage crew going on two years. Her leadership abilities are top notch. . This year for the fall play she was the stage manager, meaning she was the highest leadership position, she ran everything. Her peers love and respect her. "
Mr. Reus, Sarah's Lyceum director shared, "Sarah is an incredibly hard-working, kind, and supportive student. I first met Sarah online in my AP World History class and, although she told me later that my loudness sometimes startled her, conversations with her were a bright spot in a difficult time. On our Lyceum service trip this summer she was thoughtful in everything she did and everyone we engaged with. Similarly, in the Fine Arts Sarah is always dedicated to creating the best possible product. Whether Stage Managing a show, creating a video, or building a set Sarah strives to do the best she can. Even more importantly, Sarah works to support other students and help bring out the best in them. She truly understands that the arts are best when we work together to create something that we couldn't have alone. I'm looking forward to working with her the rest of this year and seeing the amazing things she'll do in the future."
Ms. Eisenberg is a new addition to Sarah's fine arts portfolio. She shared, "I was absolutely thrilled to have Sarah not in one, but TWO art classes this year. I became very familiar with Sarah through her impeccable design portfolio and her work in Mr. Ash's class. Both Mr. Ash and Ms. Hanna would talk about Sarah's creative drive and strong work ethic, so when I saw her name on my rosters, well I was beyond myself. Sarah has proven to be a skilled artist in design, observational drawing and darkroom photography. Her assignments go above and beyond the class expectations and I believe she has become a motivator and role model to the younger students in both Art 1 and Photo 1. Sarah carries with her a sense of pride and principle. Even a small sketchbook assignment is polished off with diligence and perfection. While Sarah is the perfect, humble dedicated student, I see her becoming a serious force out there in the creative field when she graduates. She is nothing short of a leader, industry pioneer and remarkable talent."
When I asked Sarah what advice she'd give to future student leaders, she paused and reflected that social media exposes us to so many issues around the world that we cannot necessarily influence, resulting in undue stress. Instead, I believe we should focus on managing our own time and energy so that we can help and support one another in feasible ways. Clearly Sarah is wise beyond her years and has a very bright future ahead!
WERONIKA KMIEC
Artists and art educators are adamant that studying the arts enhances both academic and life achievement and satisfaction. Weronika Kmiec provides a brilliant example of this truth. A self-described artistic person since she was quite small, Weronika relishes the opportunity to look behind the scenes of things. Her dedication to seeing what goes into the process of creation makes her appreciate how much care people put into their work in many realms. She pursues her own art the same way, devoting hours to research before she decides upon a composition. "Sometimes pieces come from a doodle," she shared, "but if you want to create an important impact, you have to prep." Weronika's impact on both the art program and Maine West as a whole are why we are honoring her tonight as 207's Best for Fine Arts.
Weronika specializes mainly in painting in acrylics, though she has branched out into some digital compositions recently. She is especially interested in traditions in old Slavic culture, specifically of the effigies of Marzanna, the goddess of death and winter. Straws and twigs are dressed in rags and either set on fire or drowned in a river. In some parts of rural Poland, the fusion of pagan and Catholic iconography is quite robust, and Weronika loves this aspect of her culture, incorporating her work with old beasts and mythological figures like Marzanna. She credits her early inspiration as an artist to her mother, who got in trouble once for drawing a bunny rabbit boy on the wall with a Sharpie. Weronika remembers the figures she drew and said, "whether she realizes it or not, that was my inspiration." She finds opportunities to watch people putting their best selves out there, loving what they do, and she values that her study of art has given her the opportunity to see the hard work that's hidden behind what the average student sees.
This is why art is essential, Weronika explained to me. It's not just an extra. Art teaches you to see the hours people spend on things that others pass by in just a few minutes. Art is not an extra; art fills people's lives. "What would we do to find joy in life without art?" she asked. "Life would just be work." So we honor Weronika tonight for helping us to find joy at work, for bringing her culture to life in her work, and for reminding us all that the creation of beauty is a painstaking act of love.
One teacher who recognized Weronika for what she shared from her artistic studies in Anthropology class is Ms. Murray. "Weronika stepped into our Anthropology class with generous amounts of intellectual curiosity, communal kindness, and a wry smile that lit her face as she made connections to the myriad topics we covered. One of these connections from a discussion on culture was to suggest her teacher read "The Secret Lives of Colour", a fascinating book exploring the meaning to us humans of 75 unique shades from Ferrari red to Cleopatra's favorite purple. This is emblematic of Weronika's love of art applied to all aspects of her life. From her Anthropology journal to her beautifully composed projects, Weronika always found ways to incorporate her creativity and compose masterpieces well beyond the art classroom. Art is a gift Weronika has clearly embraced fully, and joyfully passed on to all of us lucky to have spent time with her."
Mr. Barney, who taught Weronika in class and serves as her adviser, praised her contributions to any setting. "It has been an absolute to get to know Weronika as a student in class and also as a member of my Advisory for the last three years. She has a great personality and sense of humor that allows her to get along well with her peers and a work ethic that will serve her well in the future. With Weronika, you truly get a sense that she is confident and comfortable in who she is, and I know she will have great success!"
In AP Environmental Science, Ms. Ryken enjoyed Weronika's wholehearted engagement in class. "For example, in our water unit she shared an article about the Oder River which had experienced a major fish kill, topics we discussed in class. She shared this with classmates showing the relevance of the topics they were studying. Additionally, she shared about her family's experiences when we discussed the Chernobyl nuclear disaster. This really helped to personalize the learning for her classmates. Furthermore, she tried to extend her learning beyond the classroom by helping her family create a native plant garden to help enhance the backyard habitat for pollinators and other threatened species. These are a few academic examples but Weronika was also a person of solid character. When students selected their own seats, she chose a seat by a fellow student who was an extreme introvert. This student really struggled when he needed to work with other students; however, he would work with Weronika and she helped him to feel much more a part of the class. These are just a few examples of the excellence of Weronika."
Finally, Weronika's art teachers are thrilled that she is representing the Fine Arts Department as a recipient of this award. Mr. Cammarata highlighted her many contributions to the program. "Weronika is active in Art club and NAHS and currently taking two different AP classes in our department, AP Studio Drawing and AP Studio Design. She helps each year with middle school art workshops, fundraises for NAHS. Weronika is visible in our department beginning at 7:45 until 3:30. She is an extremely talented student in both digital AP and Drawing AP. Weronika is always available to help within our department and club activities. She spends her off hours in the studio working on her craft and every day she returns to school showing evidence of having worked on her project at home. She is extremely respectful, honest and sincere."
Ms. Kljajic agrees. "Weronika has been a constant presence in our art classrooms over the years. I've had Weronika in many art classes, and she is now in my AP design course. Her technical abilities have set her apart as an advanced student from the start, and she has created some of the most beautiful work over the years. Her involvement in NAHS and volunteering time to our middle school workshops is a tremendous help, as well as her representation of Maine West at this year's IHSAE art throwdown."
Thank you, Weronika, for all that you have seen and done behind the scenes and on the canvas to enhance the lives of the staff and students at Maine West.