District 207 Featured in "Leading Collective Efficacy" Book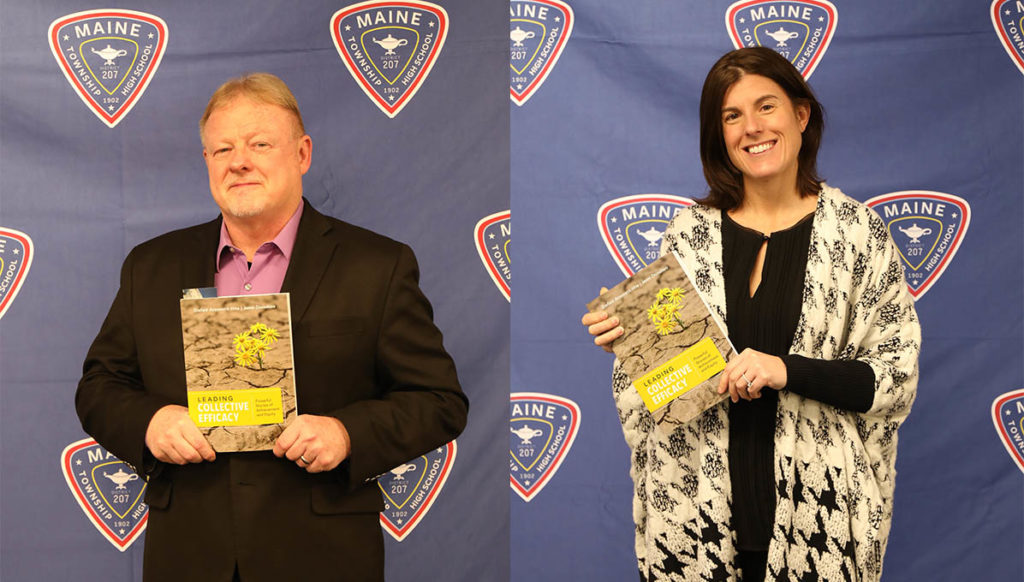 Innovative designs in Adult Learning to help create collective efficacy in Maine Township High School District 207 led by Superintendent Dr. Ken Wallace and Director of Adult Learning Dr. Jill Geocaris is featured in a recently published book by Stefani Arzonetti Hite and Jenni Donohoo titled "Leading Collective Efficacy – Powerful Stories of Achievement and Equity."
"Being a part of this important book, co-written by Jenni Donohoo who is a co-researcher with John Hattie, one of the world's pre-eminent researchers on what works in schools, is an incredible honor and truly a tribute to the talented teachers, administrators and staff who have helped us develop a shared vision for how to serve our students well beyond their days in our high schools," said Superintendent Dr. Ken Wallace.
Chapter 2 of the book is focused on the collective efficacy work in District 207. The chapter is titled "Goal Consensus," and shares many of the key elements that have led the district to be sought out among educators as a model in this key area. The chapter discusses the District 207 approaches that include its unique adult learning model, opening access to opportunities to all student learners in the system and the district's robust coaching program. The chapter also discusses the student achievement gains reached due to these approaches.
"It was an honor to have Hite and Donohoo recognize District 207's Adult Learning Program as a model for how schools can build collective efficacy," says Geocaris. "Our model fosters teacher leadership and promotes collaboration among our staff, which results in a true belief that if we work together towards common goals we can make a difference for our students!"
"Beginning with designing systems for teachers to continue to be learners is how we build great schools," added Wallace. "We have to think long-term and create systems that empower teachers to not only own their learning but to be in positions of authority and influence in leading other teachers. Our district is perhaps the only one in America in which every teacher every year is coached. All of our coaches are teachers, and our entire Adult Learning program, under Dr. Geocaris' supervision, is led by our teachers. That's the key. When teachers are constantly growing and learning, the power of that translates into our classrooms across the entire system. It truly is about creating a sustainable learning organization by promoting a practice of inquiry and growth throughout the system, everyone included."
The book is published by Corwin and is available at www.corwin.com or www.amazon.com.
To learn more about the District's approach to collective efficacy, visit https://maine207.org/adult-learning-landing/ or https://maine207.org/blog/collective-efficacy/