Financial Aid Application Help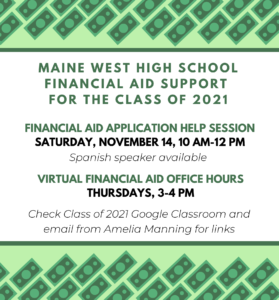 This Saturday, November 14, we will be hosting a Virtual Financial Aid Application Help Session from 10 a.m. until noon. If you have started the FAFSA or Alternative Application and would like assistance, please join us here. Breakout rooms will be available to protect privacy. Hispanohablante disponible.
The FAFSA and Alternative Application for Illinois Financial Aid opened on October 1 for students in the Class of 2021. If your child is planning to attend college, we recommend completing one of these financial aid applications by their college application deadlines to maximize financial aid opportunities. It is also a graduation requirement to complete one of these forms or a waiver.
If you have been unable to attend our previous help sessions, there are still opportunities to receive assistance:
Virtual Financial Aid Office Hours (click here to join)
Thursdays, 3-4 p.m.
State-wide Virtual Financial Aid Application Completion Workshops (registration required here)
Tuesday, November 17, 6-8 p.m. Hispanohablante disponible
Individual appointments are also available by request. Appointments may be scheduled with our representative from the Illinois Assistance Commission here. Please contact Amelia Manning, Career and College Admissions Specialist, if you need further assistance.