Maine West Parent Night Set for March 11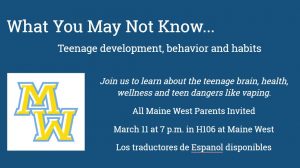 Maine West administrators and staff will host a parent night at 7 p.m. on Monday, March 11 titled: "What You May Not Know…Teenage development, behavior and habits."
The evening will address topics related to a high school student's overall health and wellness, including:
The Teenage Development and Brain
Vaping and Substance Use
Sleep
Social Emotional Wellbeing
Social Media/Technology
Strategies to help students be healthy both physically and mentally will be shared as part of the presentation. All Maine West and District 62 parents are invited to attend. The event will be in H106 at Maine West. Spanish translators will be available for families that don't speak English.