Semester 1 Report Cards Mailed and Available in Infinite Campus
Paper report cards are being mailed home to students' primary households the week of Jan. 6. These report cards will contain attendance and grades for the first semester of the 2019-20 school year, including grades for quarter classes. Students attending more than one school will receive a report card from each school.
Report cards may be viewed online in the Parent Portal and Student Portal. To view the report card, go to the "Reports" page. Select the desired school's Report Card from the menu (see below). In this example, it is a report card from Maine East.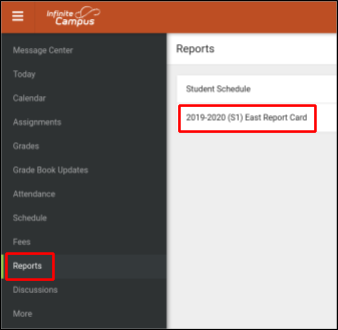 The PDF report card will open in a new window. If you are prompted to save the file, you will need to open it with your PDF reader. The cumulative weighted GPA is found on the PDF report card.
All the GPAs can be found in the Infinite Campus Parent and Student Portals. To view these GPAs, go to the "More" page and select M207 GPAs (see below).