Students Honored as 207s Best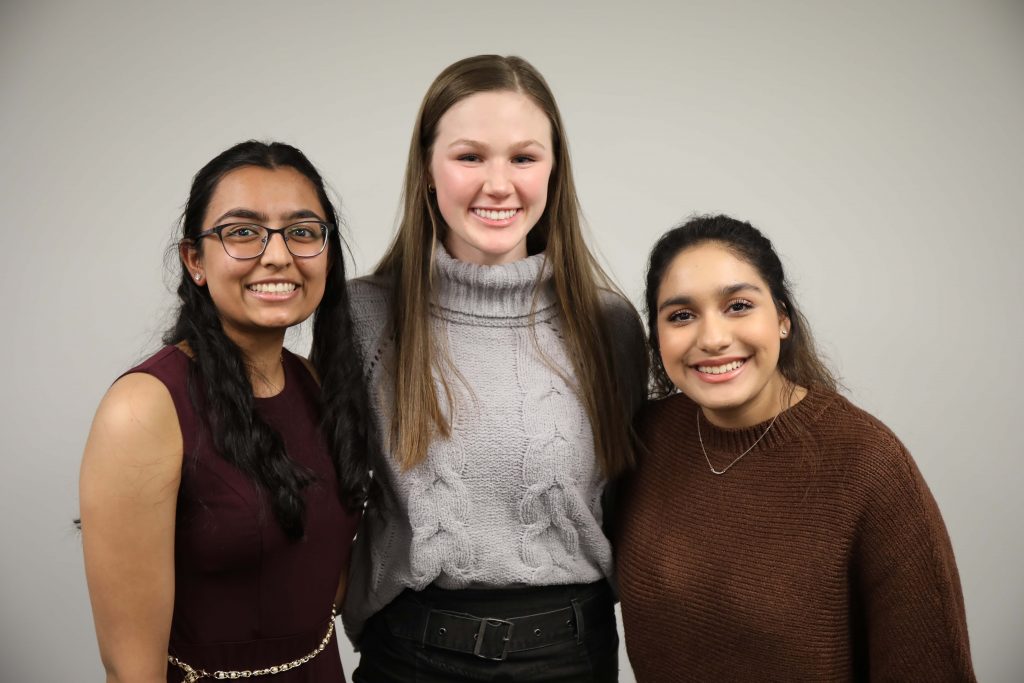 (Left to right Anami Patel, Kate Stewart and Malaika Zaidi)
Article written by Communications Intern Hannah Pisani
The most recent District 207 honorees for academic achievement have been chosen and named "207's Best" for the month of January. The three students, one from each school, were honored at the board meeting on January 6, 2020.
Anami Patel was the honoree from Maine East. In addition to consistently taking numerous Advanced Placement classes during her time at Maine East, Patel is an active member of the Gifted Lyceum Program and received a National Merit Commended Scholar award. "Anami is simply one of the finest students that I have ever taught in my 32 years as an educator," says Gifted Lyceum Program Coordinator and AP Biology teacher Judy Tyler. She is one of those students that I will look back and say 'there was the best of the best.'"
Patel earned an AP Scholar with Distinction honor, was a National Spanish Exam Silver Medalist, earned honors in various science and social science classes and was named "Student of the Month" eight times by various teachers. Aside from awards and achievements, she is involved in numerous clubs and activities including: Mu Alpha Theta Math Honor Society, National Honor Society, Spanish National Honor Society, ME Cares (Charity Club), Rotary Interact, Maine Historical Society, East's Student Council, Class Council and NOVUS club where she serves as vice president.
Patel's work ethic is extensive outside of Maine East. She volunteers at Motorola where she has created prototypes including a visor for firefighters that would show the temperature of the fire so that the firefighters can locate the nearest exit before an explosion, track down the location of fellow firefighters, contact assistance and show an aerial view of the building. On top of that, Patel interns at BMO Harris assisting with operational tasks and volunteers at the Des Plaines Library.
Maine South's honoree is Kate Stewart. Despite taking the hardest academic coursework the school can offer, she has accumulated the highest GPA in the school. Stewart also is a commended scholar for the national merit award.
In addition to excelling in the classroom, Stewart is an editor for the yearbook, a PE leader, a volunteer at Special Olympics soccer and has been a part of junior and senior class council. She is a member of National Honor Society, Science National Honor Society and Environmental club. Stewart is a tutor at Compass Educational Services and works at the Park Ridge Farmers Market.
"Kate Stewart is one of a kind," says Stewart's Senior Leaders teacher Sona Torosian. " I have known her since freshman year and she is absolutely driven to succeed. She came in extremely mature, focused and with a vision. What really impresses me about Kate is not only is she high in her academic achievements throughout her four years at Maine South, but she has also been involved in athletics and clubs."
From Maine West, Malaika Zaidi was honored. This year Zaidi is taking all Advanced Placement classes except Newspaper Practicum, which she is Editor-in-Chief, and P.E., which she is a Senior Leader. "As Editor-in-Chief of the Westerner, Malaika creates well-researched, well-conceived writing, always before deadline," says English teacher James McGowan. "She helps mentor the rest of the newspaper staff to do the same. Reflecting on Veteran's Day, for example, Malaika wanted to write an article last year to show what life is like for those who serve in the military. She combed through archives, scoured files, and dig through social media to find dozens of Maine West alumni who had served in Vietnam, Iraq, and Afghanistan who could share their experiences first hand. Malaika spent hours on the phone with them, listening to these veterans describe their feelings about life on the front lines, so that she could share their anecdotes and reflections in her reporting."
Zaidi is the President of Pi Sigma Pi, Vice President of National Honor Society and the Science National Honor Society, Secretary of the Principal's Leadership Team, a Link Crew Commissioner and she joined the Voice for the Nameless. Also, she decided to incorporate piano in her course schedule because she wanted to learn how to play. Outside of school, she takes trips to the Inspiration Corporation every month where she volunteers to serve food to the homeless and she shadows several units at Lutheran General Hospital to prepare for a future career in medicine.