Students Named "207s Best" in the Area of Fine Arts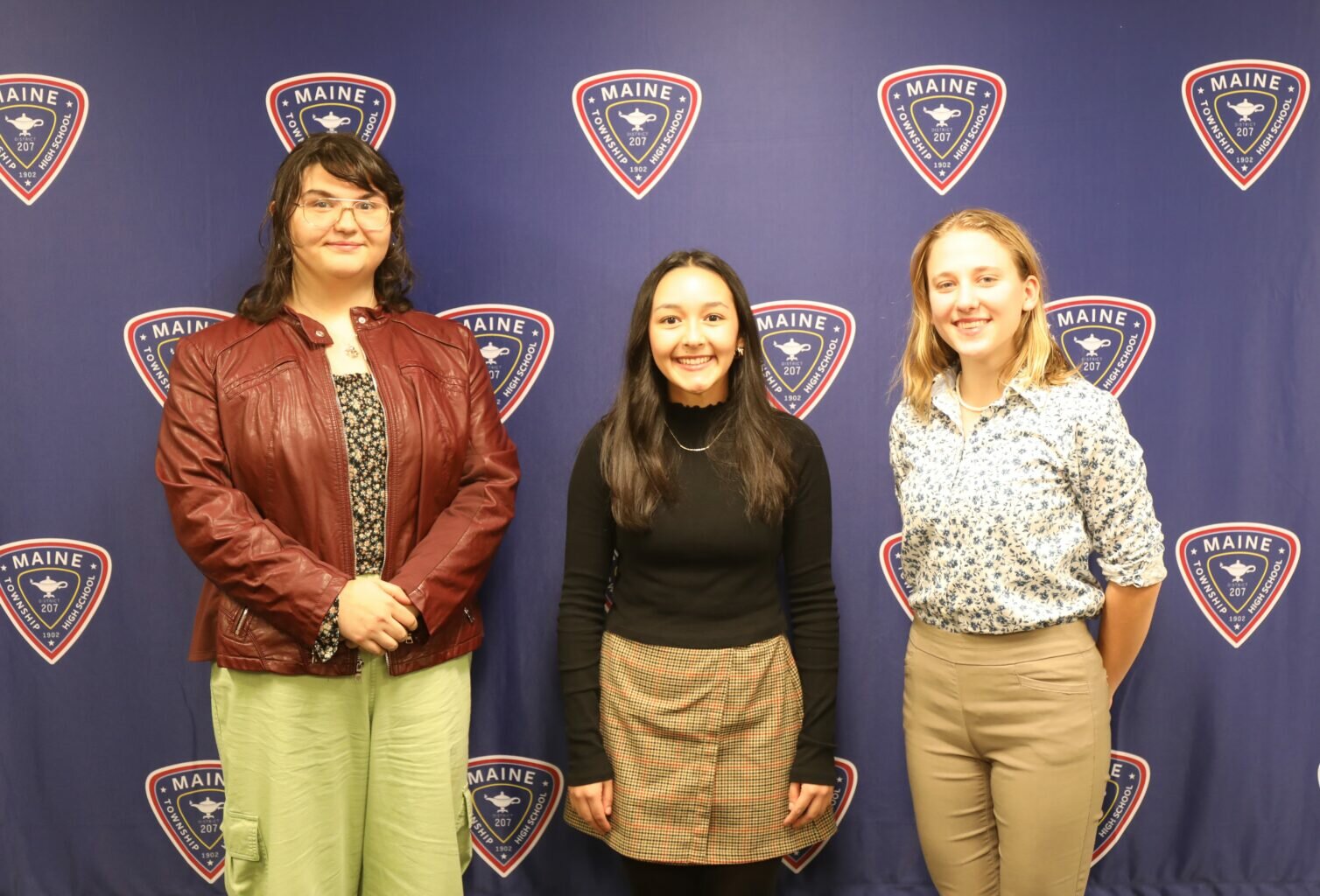 The Maine Township High School District 207 Board of Education honored three students at its recent meeting naming each student "207's Best" in the area of Fine Arts. The students recognized were Olivia Killian from Maine South (middle), Lucy Planica from Maine East (right) and Selma Velic from Maine West (left).
OLIVIA KILLIAN
The arts were so integral in Olivia's life from an early age that she says she "learned how to tie her regular shoes from tying her ballet shoes." She began dancing in the park district programs as a young child and began to play the double bass in 4th grade. She began cello lessons on her own and in 9th grade she played both instruments and committed to cello and plays that instrument in the Maine South Orchestra. Olivia has been in the Maine South Dance Company and has been an officer the past two years. She was a member of the winter play last year and the choreographer for "Charlotte's Web." In the production of "Chicago," she was the dance captain and in the dance ensemble. She also studies voice lessons in her free time and was in Decibels in 9th grade.
Along with her love for the arts, Olivia has a love for science. She was a member of the Science Research Program that took place over the summer, where she primarily worked in the area of botany and competed at the regional and state level and earned a gold medal in her research presentation.
"Over and over again, I have been astounded by her internal motivation," says Olivia's drama teacher Carrie Saurer. "No matter the scope of the task, Olivia is always determined to get every single thing that she possibly can from it. Olivia is a student that gives her all, in every moment."
LUCY PLANICA
Lucy fell in love with the arts in elementary school where she became involved in drama and art classes. At Maine East Lucy has taken advantage of multiple art courses each school year. Lucy joined the first play in 9th grade and has been involved in every single production since arriving at East. Technical theater is just one of Lucy's passions as an artist as she also loves costume design and set creation. Currently Lucy is taking AP Photo and AP Art.
Lucy also has a love for photography and serves as a teacher's assistant in the photography studio. She shares that she begins her days at school in the art suite and feels lucky to end her days in the theater, which she calls her "second home."
"Lucy quickly made her mark during her first year in Photo 1 with her enthusiastic approach to learning, her drive to perfect the art of photography and her joyful personality," says fine arts teacher Laura Hanna.
SELMA VELIC
Selma has been on a self-discovery path since arriving at Maine West, taking advantage of all the school has to offer. "I was so timid, mostly quiet," she says of when she was a 9th grader. But she discovered her strengths as a leader in the Fine Arts.
On tech crew she learned how she could make a contribution and that carried into other activities and clubs at school. Selma is now a drum major in the Marching Band, where she plays the flute in concert season. She is also a stage manager and student producer in tech crew and helps produce the Warrior Weekly on WMTH. She's a member of the Thespian Society, Environmental Club, Students Organization Against Racism, Drama Club, Music Appreciation Club, Video Game Club, the Anime Club, Board Game Club, American Sign Language Club and Book Club.
Her spirit of discovery and service is precisely what makes so many of her teachers sing Selma's praises so much. "She exudes joy," English teacher Matt Ellefson says. "She walks into a room and instantly makes everyone's day better. She is thoughtful and deliberate as a student and has a natural passion for learning. Selma possesses a sense of wisdom that is well beyond her years. She is kind, and it is a blessing to know her."