Students Recognized for Achievements in Technology and Innovation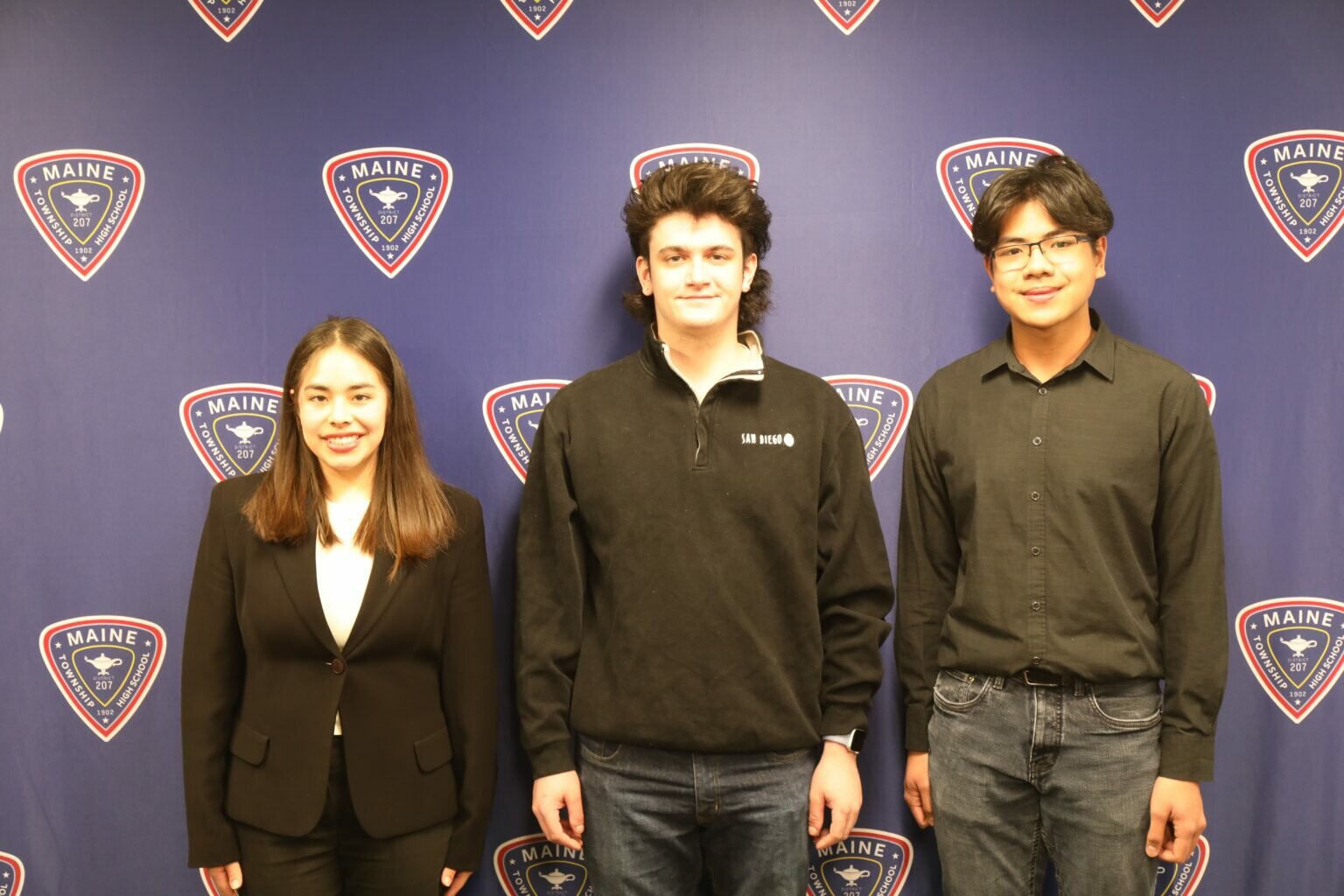 The Maine Township High School District 207 Board of Education honored three students at its recent meeting by naming each student "207's Best" in the areas of technology and innovation. The students recognized were Maria "Almus" Uzquiano from Maine South (left), Wolfgang "Wolf" Gustaveson from Maine East (center) and Daniel "Dan" Roque from Maine West (right). Below are the nomination letters for each student from the principal.
MARIA "ALMUS" UZQUIANO – MAINE SOUTH
Almus has built an excellent academic portfolio in technology and we are pleased to present her story. Her love for architecture began with her father who is a licensed architect and she remembers talking to him about designs, drawing out plans, and putting ideas to paper. Her favorite class is PLTW Civil Engineering where they are doing a project designing a house for Habitat for Humanity. She enjoys the class because projects like this highlight how using various disciplines and things she has learned in other classes, can combine to make something special. She has taken an internship where she worked at Summit and made floor plans for apartments and she is currently doing an internship where she is working with architecture firms. Over the summer, she attended UC-Berkley, for a two-week engineering program through the National Student Leadership Conference. They learned mechanical engineering, soldering, and projects where they got golf balls to fit into a pool. They are currently designing a school for the future that innovates technology and brings it into the school setting. Freshman year she took Computer Aided Drafting (CAD) and it sparked a flame for technology and design. She is fluent in CAD, Rivet, and Infusion. She is a Hawk PRIDE leader, and a member of Spanish NHS, Key Club, Secretary of Autos Club, and Spanish Club.
Almus' counselor, Meghan Wood, says, "Almus is a standout student who has taken advantage of countless elective and career opportunities during her high school career. She possesses a genuine love for learning and this has been apparent by her enthusiasm in her classes and her desire to gain firsthand experience into the areas that she is most passionate about. She is kind, curious, and goal-oriented and working with her has been a true privilege."
Amy Capps, Almus' Biology Accelerated teacher, says, "Almus was quiet but determined when I had her in class. She was a strong partner for her classmates and was voted 'Most Kind' by her peers. I know that she continued to strive for success since freshman year and has been an inspiring role model as an upperclassman. I'm so glad she found her niche in the technology field!"
Her Sports in Literature teacher, Jason Marsicano, says, "Almus chose to take Sports in Literature as an elective course since her AP English class already fulfilled the graduation requirement. She exudes a quiet confidence in the classroom. Her valuable contributions to class discussions typically occurred after a few other students had contributed ideas. This demonstrates not only the respect she has for her peers and their ideas, but also the fact that she values and practices listening to others. She is an intelligent student with a genuine personality, who positively impacts any classroom environment she is in."
Doug Walter, Almus' AP Environmental Science teacher says, "Almus has been a standout student in AP Environmental Science this year. Almus exemplifies every single one of the Hawk Pride letters (Purposeful, Resilient, Inclusive, Dependable, Engaged), and is thus an exemplary learner and leader in class. Almus can always be counted on to do a thorough job and see it to its completion. Congrats, Almus!"
Almus' CAD Technology, Personal Autos and PLTW Civil Engineering and Architecture Accelerated teacher, TJ Krause, says, "Almus has been an outstanding student in and outside of the classroom over the 4 years I have known her. She offers insightful comments and asks questions that the entire class can benefit from. I also know she has been involved with an internship outside of Maine South's CTE courses. Almus also served as an elected Officer in the Auto Club where she brought a fresh perspective to the club."
Jon Scorza, Almus' English 1 Accelerated teacher, says, "Even when she was a freshman, it was clear that Almus was a bright, diligent young woman who is destined for great achievement. Being recognized as one of 207's Best is evidence that she is already on that path. I am so proud of Almus and can't wait to hear about what other wonderful things she accomplishes."
Her AP Literature and Composition teacher, Jill Braverman, says, "Accomplished yet modest, Almus is more than deserving of this award. In getting to know her this year, I am impressed by Almus's insights, confidence, and consistency. She is truly one of 207's best!"
Johanna Abend, Almus' AP Language and Composition teacher, says, "Almus is a hard-working student, a creative thinker, and a mature young woman. I was so glad to have her in AP Language and Composition, as she was a friendly, respectful student from the very first day of school. Congratulations, Almus!"
Next year, she will attend IIT majoring in architecture. Congratulations to Almus! We cannot wait to see your designs come to life!
WOLFGANG "WOLF" GUSTAVSON – MAINE EAST
Maine East High School is pleased to recognize Wolf Gustavson as one of 207s Best in the area of technology and innovation.
My conversation with Wolf was inspiring in that he is a true product of the learning experience that we wish for all of our students. He came to Maine East eager to learn, to try new things and to find his passion. That is exactly what Wolf did. He tried a wide variety of courses and appreciated the chance to experience new things. Wolf was always interested in both computers and cars but he did not anticipate the extent to which CTE courses would influence his learning journey.
When Wolf took robotics and computer programming he learned that he is motivated by hands-on experiences. He loved programming the robots and experimenting with new codes. Then, when Wolf took auto fundamentals and auto service he learned that he was most excited about pouring the skills he previously learned into cars. Car service quickly became his passion and his future career interest. Wolf loved the opportunity to learn through trial and error. He shared with me that he loves Mr. Adkins' classes because they are student led; "Mr. Adkins is there to support us, but we really get to try new things and it's not a big deal if we screw up, we just learn from our mistakes".
What's great about Wolf is that he continued to value diverse learning opportunities. As a Lyceum student, Wolf maintained a rigorous course load over his four years. He appreciated his Lyceum courses because they pushed his creativity and thinking out of the box. He shared that those special projects forced him to see how his newfound innovation skills learned in autos could translate into creative service projects.
Wolf's curious and committed learning style is appreciated by his teachers, of course.
Mr. Adkins shared, "I have been fortunate to have Wolf as a student the last three years in Autos and now in Engineering Design & Capstone. Everyday Wolf comes to school with incredible positive energy wanting to not only learn more himself but also be a leader for others. Any time Wolf observes me juggling too many things he is quick to offer assistance whether it be fixing a broken tool or assisting other students. Wolf thrives on accepting challenges, investigating possible solutions while problem solving the entire time. He has been working on fabricating a High Mileage Vehicle in Capstone, which is a project that requires innovation and a great deal of thinking outside the box, all of which Wolf has excelled at!"
Mr. Rabens shared, "I've had the chance to work with Wolf both in and out of the classroom. In Computer Science, he has shown a knack for problem solving and a passion for learning and understanding why something works, rather than just rushing to a solution. He is a great teammate and someone that will not stop until the job is done. This was also seen outside of the classroom… I was fortunate enough to also see Wolf's incredible work ethic and leadership as he and his Lyceum peers worked to clean neighborhoods and flooded basements in the Detroit area. Wolf jumped in with both feet and without hesitation when asked to perform intense manual labor to help those in need. Yes, I respect Wolf–the student–a great deal. But more, I respect Wolf–the young man–a great deal, as he has shown incredible kindness and care for others, and is the kind of person you want in your corner."
Mr. Greenwald has also had a great experience with Wolf, "Wolf is a force of nature that brings energy and excitement to my classroom. Whether Wolf is building a robotics contraption or figuring out how to use a Linux exploit it is enjoyable to watch him attack a challenge and grasp a concept."
Mr. Reus shared, "It makes me so happy to see Wolf win this award. I've worked with Wolf since his freshman year and it's been gratifying watching him grow and mature over that time. He is an incredibly kind, inclusive, and clever student. Although I've mostly taught Wolf in more traditional academic settings, we've talked many times about his love of problem-solving, building, and cars. As a member of the Lyceum, Wolf came with us on our week-long service trip to Detroit this summer. His dedication was admirable and his work ethic was incredible, but one memory sticks out to me. While working for the Second Mile Center, a community center for disadvantaged children, Wolf saw a room of neglected bicycles and got to work with his skills and tools. He filled tires, fixed brakes, and lubricated chains – making all but one of them functional again, making it possible for them to be distributed to children in the neighborhood. He took all that he had learned, both in his time in the CTE department and in his free time, and applied it to help others and to make a difference."
Wolf's counselor, Mrs. Caliendo, has loved watching his learning journey as well. "It has been a great honor to work with Wolf throughout his four years at Maine East. He is an incredible young adult with talents across the academic areas. He loves learning and has enjoyed exploring so many courses in our curriculum. Wolf has taken countless opportunities to examine his career interests especially through our elective program and is eager to embark on his post-secondary journey with his Maine East success as his foundation!"
Wolf is committed to continuing his learning in the automotive program at Southern Illinois University. He believes the experiences he had at Maine East, especially in the CTE department, will give him an edge in his coursework. While his dream is to work his way up to working on high performance, luxury cars, he is also open to teaching. Wolf shared with me that he loves helping others and sharing his skills. When asked about possibly getting teacher certification, he said that he'd "totally" consider coming back to be the next Mr. Adkins. I can only hope that we'd be that lucky!
DANIEL "DAN" ROQUE – MAINE WEST
Congratulations and thanks to Dan Roque, who has contributed so much to Maine West High School as a Technology Leader and Innovator. As I talked with Dan, and talked with teachers who were enthused to tell me about Dan, the word "leader" in the title of this award took on more and more emphasis. Insofar as a leader is defined as someone who makes deep and consistent commitments to helping others, Dan illustrates the core concept, with technology, specifically physics and aviation, as his medium more than it is his purpose. For Dan, helping others is always the point.
Even when describing his passion for flying, Dan made it clear that what drives him is service. As a Cadet in the Civil Air Patrol, Dan gives of his scarce time to teach and learn about aerospace, engineering, the aviation industry, and the differences in technology that evolve from specific uses in commercial, military, and private aviation. He presented to other cadets on the differences between American and Chinese aviation industries. He volunteers to train and march and spend a week in something like basic training, accumulating some hours of flying time toward his license, and learning how to fly and land a glider. One day, Dan could potentially serve others in a search & rescue mission, or in photography missions to assess storm damage. I asked him what being a cadet means, and he said, "It means being willing to learn and grow, make a commitment to the organization and its high standards, listen and learn from experienced officers, and serve others."
That definition is consistent with the way Dan lives his life every day: he is all in on learning, all in on community. He tried fencing, fell in love with the community, and worked hard to become a Varsity captain. He loves the balance between team commitment and self-reliance. He loves the community of his engineering and design class, specifically on their work on the high mileage vehicle competition. Working together with friends on teams has been the highlight of Dan's experiences at Maine West. That's how he overcame the social anxiety he experienced as a freshman to become a prominent leader and friend in our senior class, in Marching Band, where he is a section leader; in Link Crew; in Fencing; Chess Club, Mu Alpha Theta, National Honor Society, Pi Sigma Pi, Scholastic Bowl, Jazz Band, Pit Orchestra, and Math Team. In his quiet and understated fashion, Dan has become a person who others follow.
Dan stands out as an exceptional math, science, and engineering student, but teachers and coaches across the school lauded his character and leadership above all else.
Mr. Zafiropoulos highlighted Dan's determination. "If I could clone Dan, I would. I can say that in my 5 years of coaching the fencing team, I have never met a more determined person. Dan, like many others, had no experience fencing prior to Maine West. His strong willingness earned him a spot on the Varsity Sabre squad his sophomore year, and now he is captain. Dan will be a force wherever he ends up, no challenge too big and no task too difficult. I could not think of a more deserving person to earn this leadership award. Thank you, Dan.
Mrs. Avadek praised Dan's diverse contributions to English class. "Dan is interesting and interested, bringing his knowledge of history, military, and current events to our class discussions and his thoughtful writing. Few students demonstrate Dan's degree of authentic curiosity, and his insightful contributions to English II Accelerated benefited all of his peers."
Mrs. Young feels lucky to have had Dan in class and to have him again as a Link Crew Leader in her freshman advisory. "Dan was a student in my AP Physics 1 class last year and is currently a Link Crew leader in my freshman advisory. Dan is a dedicated and very successful student, as well as a natural leader. As a leader of his peers, he shared his knowledge with confidence and humility. As a leader of younger students, he is kind and approachable. These are just a few of the many qualities that make Dan an outstanding choice as recipient of this award. Congratulations Dan, and thank you for being such a positive force at Maine West!"
Mr. Muscia appreciates that Dan expands our concept of who a leader is. "Dan's humble demeanor goes against the stereotype many have of what a leader looks like. However, he is a strong leader whom others choose to follow because of his consistent excellence."
Mr. Sumida describes Dan as a thinker and as a leader. "Dan thinks through ideas thoroughly, meticulously parsing them for connections and inconsistencies until he internalizes them. That's an unusual quality in a person, let alone a student, and it serves Dan well. He is also an effortless leader, helping guide those on his team by providing support and by listening to the needs of others."
Mr. Ruder knows nothing about Dan's technical skills, but what he shares about Dan as a person is pretty telling. "The funny thing about Dan Roque getting the award for tech innovator and leader is that as I have known him as an MVP on Maine West's Scholastic Bowl team, he has proven himself as THE history genius – NO ONE knows more history than Dan Roque. It just goes to show why when I had Dan in English AP Language last year, all the other kids looked up to him with envy. Whether we are talking about tech innovations, historical facts, or writing, Dan has multiple talents and so he is very deserving of this recognition and I am excited to see where the future takes him."
We are all excited to see where the future takes you, Dan, and we hope you will always remember how grateful we have been to have you for four years as a Maine West Warrior.