The Fine Arts Department seeks to help students find their strengths and to foster all students' creative and artistic instincts. Covering three curricular departments and a wide variety of extra-curricular programs, the Fine Arts provide each student a unique opportunity to develop creativity and purpose.
Maine West Fine Arts Blog: The Fine Arts blog serves as a central hub to advertise events and celebrate student successes.

Follow Us!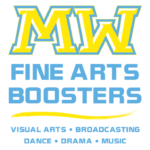 Calling all parents and guardians! Get involved!
The Maine West Fine Arts Boosters can use YOUR help!
The Maine West Fine Arts Boosters, composed of parents, community members, and local businesses, works with the Fine Arts Department to enrich the curriculum. Visit the MW Fine Arts Boosters website HERE to sign up to volunteer and/or make a financial contribution.
CLICK HERE to email the Fine Arts Boosters.