The Fine Arts Department seeks to help students find their strengths and to foster all students' creative and artistic instincts. Covering three curricular departments and a wide variety of extra-curricular programs, the Fine Arts provide each student a unique opportunity to develop creativity and purpose.
CREATIVITY FUELS THE FUTURE! | FIND YOU, BE YOU…IN THE FINE ARTS!
Maine West Fine Arts Blog:
The Fine Arts blog serves as a central hub to advertise events and celebrate student successes. FOLLOW US!
TICKET WEBSITE:
For Fine Arts events that are ticketed, patrons can purchase tickets at our online store HERE.AUDITORIUM PARKING (LINK TO MAP):
The parking in front of the Main Entrance is very limited. We kindly ask that our able-bodied patrons leave the limited parking near the Main Entrance for our elderly and disabled community members. Please park in the C or D parking lots and enter the building through the Bus Concourse door (Door 45). HERE is a map showing where to park and where to enter the building for events in the Maine West Auditorium.
CLICK HERE for a printable calendar. NOTE: This calendar does not have ALL rehearsal/meeting dates.
CLICK HERE for an 22-23 MW Fine Arts Event Poster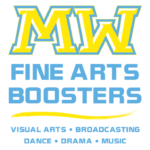 Calling all parents and caregivers! Get involved!
The Maine West Fine Arts Boosters can use YOUR help!
The Maine West Fine Arts Boosters, composed of parents, community members, and local businesses, works with the Fine Arts Department to enrich the curriculum. Visit the MW Fine Arts Boosters website HERE to sign up to volunteer and/or make a financial contribution.
CLICK HERE to email the Fine Arts Boosters.