​Welcome to Maine West's Career and College Resource Center (CCRC). This site will help you find information regarding planning for after high school. Feel free to look around.
The Maine West CEEB Code is

141597
If you have questions or would like assistance, please contact Kayla Hansen or Sara Holmes. Contact information is below.
Kayla Hansen
Career Coordinator, Integrated Career Services
Office: (847) 692-8609
Sara Holmes
Career and College Admissions Specialist
Email:
[email protected]
Office: (847) 803-5810
Announcements: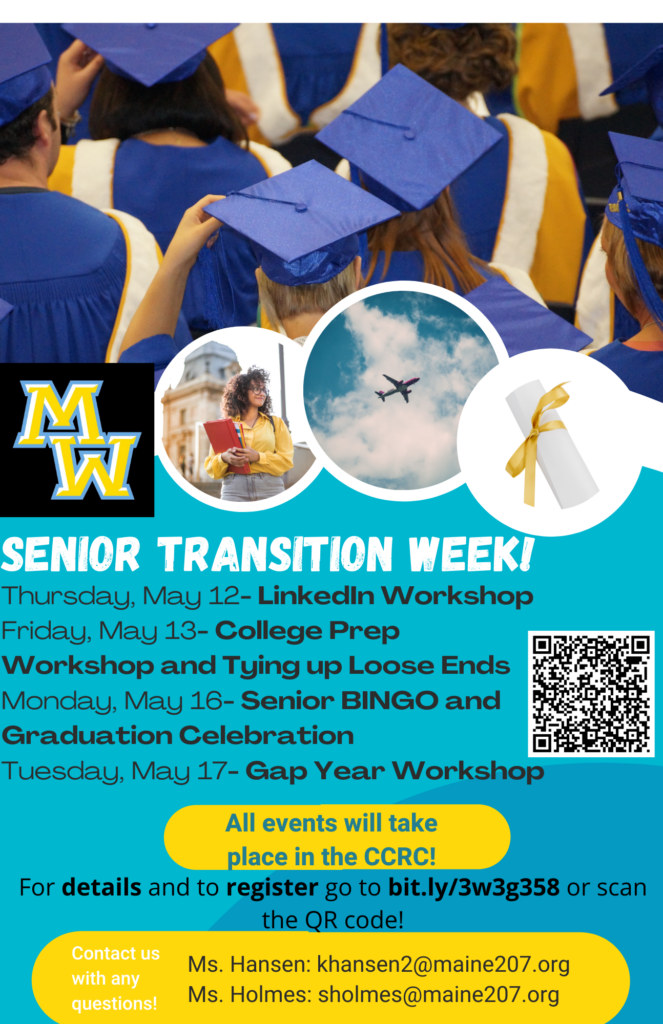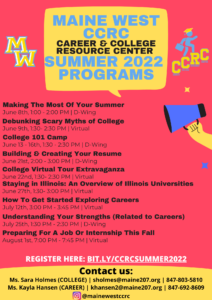 ---
Each year at Maine West, students have the opportunity to build a personal career plan through the steps and resources below.
CCRC Calendar of Events
---
Each year, we have over 100 college representatives come to Maine West. They are here to see you, the student, and to tell you about their school and programs. ​These are usually small group discussions, and you have plenty of opportunities to ask questions and speak to the representative. Juniors and seniors are invited to attend. For the 2021-2022 school year, visits will be both virtual and in-person. For virtual visits, see the calendar and list of visits below for access to the link to attend.
Along with College Visits, we will be offering Application/Financial Aid workshops, Student Hours, Career Treks and many other activities. See calendar below for an overview of what's happening in the CCRC!
CCRC Events and College Rep Visit Calendar