Maine West Teacher Conferences | Online Appointment Scheduling
The annual Teacher Conferences are on October 7, 2021 from 6:00 p.m. to 9:00 p.m. These short, seven-minute, virtual meetings provide an opportunity to meet with each student's teachers and/or counselor to become better informed about student progress – giving parents/caregivers a chance to become partners in their student's success in school.
Appointments can be made starting

Tuesday, September 21, 2021 at 8:00 am

.

Appointments and adjustments can be made at any time until the appointment window closes on

Tuesday, October 5, 2021 at 10:00 p.m.
If you do not have access to the internet, please contact the main office at (847) 827-6176 for assistance.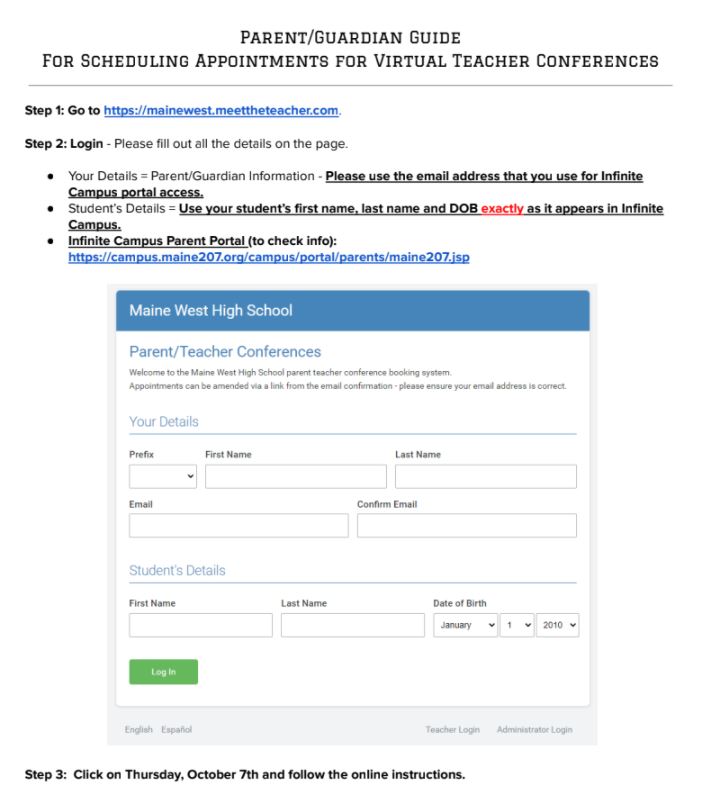 Conferencias con maestros de Maine West Programación de citas en línea
Las conferencias anuales de maestros son el 7 de octubre de 2021 de 6:00 pm a 9:00 pm Estas breves reuniones virtuales de siete minutos brindan la oportunidad de reunirse con los maestros y / o consejeros de cada estudiante para estar mejor informado acerca del progreso del estudiante: y da a los padres / cuidadores la oportunidad de convertirse en socios en el éxito de sus estudiantes en la escuela.
Las citas se pueden hacer a partir del

martes 21 de septiembre de 2021 a las 8:00 am

.

Las citas y los ajustes se pueden hacer en cualquier momento hasta que la ventana de citas se cierre el

martes 5 de octubre de 2021 a las 10:00
Si no tiene acceso a Internet, comuníquese con la oficina principal al (847) 827-6176 para obtener ayuda.