Senior Class Information
---

Maine West Class of 2021
Click on the YouTube links below to view the following events
As we near the end of a senior year like no other in our history, we are looking forward to celebrating all the ways in which our senior Warriors have "found a way!" More details regarding all the events listed below will be shared via the Maine West website as well as through email as we get closer to the dates. Masks must be worn at ALL events.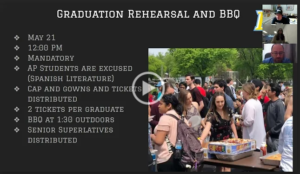 Senior Send Off Messages – Deadline May 1
Congratulate your favorite graduate! Click on the link below for information to give your senior a send off message in the graduation program booklet.
Senior Send Off Message – English
Senior Send Off Message – Spanish
Senior Drop-off
Once again this year, we are making deliveries to our seniors! Be on the lookout for a quick hello and some gift from one of your MW staff members between 10am-12pm!
Warriors Who Found a Way Recognition
Recognize an OUTSTANDING Warrior! Click on the link below to submit a name(s) of fellow warrior students and staff who have truly found a way throughout this year! We would love to recognize them.
May 8th – 10:00 AM – Seniors for Seniors Parade
Seniors should decorate their cars with Maine West blue and gold celebrating the class of 2021, and they can write cards with positive messages to be delivered to seniors in senior facilities. Seniors should arrive to C-Wing parking lot anytime after 9:00 AM, and the parade will leave at 10:00.
May 18th – 7:00 PM – Honors Night
Honors Night this year will be by invitation. Any senior receiving an award will be invited, and they will be allowed to bring two guests. As a precaution, community presenters will not be present this year, and staff will present the awards.
Cap and Gown Pick Up
Students who would like to receive caps and gowns early may pick them up in the bookstore during regular school hours (7:30 – 3:30) beginning on Wednesday, May 12. Additionally, we now have three options for after-school pick-up in the bus concourse between 3:30 and 5:00 p.m.: Wednesday, May 12; Friday, May 14; and Wednesday, May 19. We encourage early pick-up of caps and gowns, so you have time to let the gown hang and get some of the wrinkles out prior to graduation. In the event that you are not able to pick this up during this time, we will have them available at our mandatory rehearsal on Friday, May 21 at 12:00.
Instructional Material Drop Off and Obligations
You are in the home stretch! Since this is your final full week of high school, as you start to wrap up your classes, you can begin returning school-owned materials (hardcover textbooks, calculators, heart rate monitors, musical instruments, athletic equipment, etc.) to the book store. Items can be returned during the school day or after school between 3:00 pm and 5:30 pm on Wednesday, 5/12, Friday, 5/14, Wednesday, 5/19, and Friday, 5/21.
Senior obligations are due on Friday, May 14, but will continue to be accepted through Friday, May 21. Please see this document for more information: Instructional Material Return | 2021.
Thank you in advance for your assistance in getting your school-owned materials returned in a timely manner. If you have any questions, please email

[email protected]

. Finish strong seniors!
May 20th – 7:00-10:30 PM – Senior Celebration
Celebrate the end of your high school career with a party like no other, starting in the D-Wing Parking Lot! We will have ice skating, a black-light party in the new fieldhouse, a catered, sit-down dinner from Sunrise Grill, neon mini-golf, bags, Nintendo, a professional magician, photo booth, and a DJ! Because of all the incredible activities and food this evening,
there is a charge of $40 per person.
Link to purchase tickets.
May 21 – 12:00 PM – Mandatory Graduation Rehearsal
All seniors who plan on marching should attend rehearsal for graduation. We will meet in the Stadium between 11:45 and 12:00 and rehearse for our outdoor ceremony. Caps and gowns will be distributed after the rehearsal.
May 21 – 1:30 PM – Senior Barbeque
Stick around after the rehearsal for our traditional senior BBQ, sponsored by Student Council! Free food and the senior superlatives will be handed out to our seniors. Link to superlatives form – form closes 5/3.
May 21 – 7:30 – 9:30 PM – Senior Red Carpet, Senior Sunset and Senior Video
Dress in your finest, walk the senior red carpet this evening and be treated like a celeb! Interviews with our seniors will be conducted and broadcast by WMTH live on YouTube! Then, join the seniors on the front lawn for music, pictures with your friends, and a chance to watch the sunset on your senior year. Afterward, gather in the stadium for the official viewing of the Class of 2021 Senior Video. Here is the LINK to submit photos and videos for the senior video.

This event is entirely free for seniors. Seniors will be allowed to bring one guest from an outside school. Click here for the outside guest permission slip. Let us know if you are coming at this link!
May 22 – Senior Graduation Parade – CANCELLED
May 22 – 1:00 PM – Graduation
Graduation will be held in-person in the stadium, and all graduates will be given four tickets for up to four guests to attend the ceremony. Tickets will be distributed at the rehearsal on May 21. Unfortunately, we are not allowed to give more than four tickets at this time. Marching instructions and other information will be shared via email as we get closer to the date. Handicapped seating will be available.